Application Modernization
Home · It Services · Enterprise · Application Modernization
Application Modernization
modernizing legacy applications utilizing the lastest technologies and architectural frameworks
// Digital Transformation
Application Modernization
If there's one overarching driver of application modernization, it's the need for the flexibility and agility required to integrate IT technologies in a way that aligns with business demands.
Today's organizations definitely require application modernization to sustain business innovation and agility in the face of mounting IT complexity. Companies are embracing new operating and infrastructure models to address gaps and prepare their Applications for the emerging market demands.
Application Modernization is the most essential 'demand of the day' because of the growing need for advanced applications to meet the ever-changing requirements. What Push Organizations to Application Modernization? Here are the key drivers that push organizations for application modernization:
An effective roadmap for application modernization can help organizations to utilize their IT budget to maximize value to the business. Application modernization services should help legacy system modernization to mitigate risks and enhance flexibility at lower costs. Application Modernization is a foundation to Accelerate Digital Transformation.
Implementing a Continuous Application Modernization Strategy
To deliver better quality software faster, and with greater frequency that enables the business to stay agile and respond rapidly to changes in the market, IT organizations must transform their culture, tools, and processes. The DevOps movement was born from this need and includes core tenets such as collaboration, transparency, automation, and continuous delivery of software.
However, most businesses, legacy applications are still an essential part of the company's value chain, providing core capabilities and data for the business. Legacy applications do not easily lend themselves to modern software development, limiting the ability of your IT teams to deliver software with the speed and stability the business requires.
The answer is to incrementally—but continually—modernize your legacy applications. By gradually transforming them, you can reduce technical debt, improve the value and performance of each application to the business, and support the shift to DevOps in your IT organization.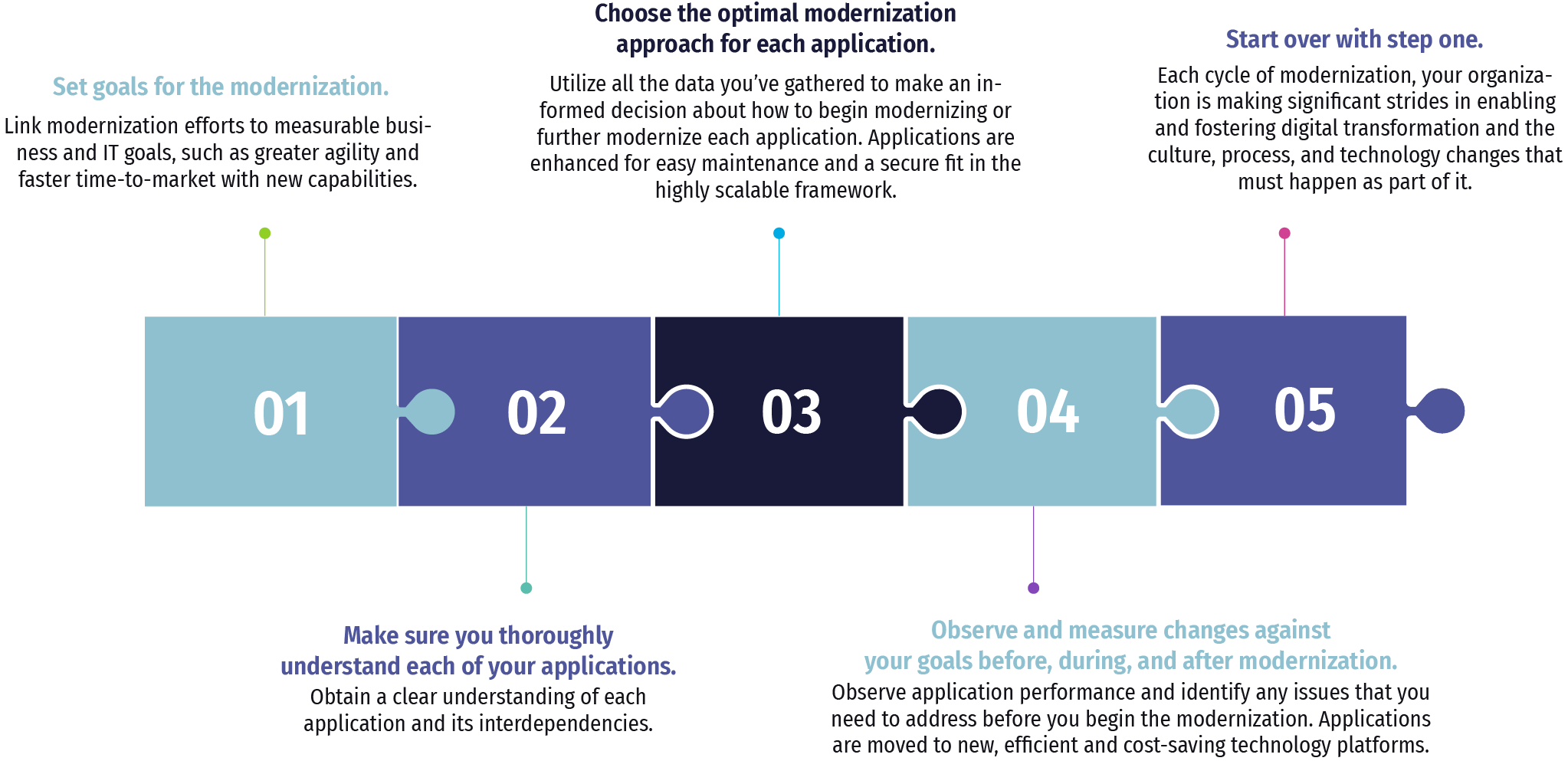 Application modernization doesn't happen in a single moment. Instead, it's a journey, an incremental process that will vary for each organization and may include implementing technologies, such as cloud, mobility, advanced analytics, and cybersecurity. Legacy modernization is an iterative approach that enables you to transform your IT ecosystem based on current and future business needs and build a flexible foundation for future innovation. Innovative Logics' Application Modernization team can help define the scope of your legacy modernization project and create an implementation roadmap based on your priorities. Our gradual, low-risk approach focuses on core system improvements rather than reinventing what already works.